---
Home
A big change for me today – I'm starting work with TAFE SA, writing and editing their website. It's a full-time position, so my freelance activities will be curtailed somewhat. I'll still be looking after existing clients and writing magazine articles, but my main focus will be on my new role. I'm excited to be involved with TAFE, a great institution providing quality vocational training for thousands of South Australians.
It's been a busy summer, with several projects competing against the joys of the outdoors for my attention. I've just wrapped up a bunch of industry award submissions for the marvellous Adelaide Oval, prepared some business biographies for an entrepreneurial foodie, delved into the unknown for Rundle Mall Unfold magazine and sent off two articles to cycling mag Treadlie. The previous issue of Treadlie is still on sale – in it I look at Cliff Mitchell's incredible collection of vintage machines and talk to Mel Waters, the brains behind Port Adelaide's Honeybee Cycles. As always, it's a pleasure to see my words accompanied by the photography of Che Chorley, one of Adelaide's finest. Do yourself a favour…
More winners
Great news from the 2015 South Australian Tourism Awards. This year I prepared awards for two clients, The Adelaide Oval and Segway Sensation SA. Adelaide Oval was named best Major Tourist Attraction and best Cultural Tourism experience, and was awarded a Bronze Medal in the Business Events category. Segway Sensation SA won Bronze in the New Tourism Venture category, making it four gongs from four entries. It's a pleasure to work with the industry leaders in this state – if you want to be one, entering your industry awards is a good way to get there.
It's getting a bit old, but I enjoyed writing this piece for Aspire. In it, I speak with four South Australian scientists about why science is important, why cutting funding to science is terrible and why we should look at nuclear energy if we want to save the world.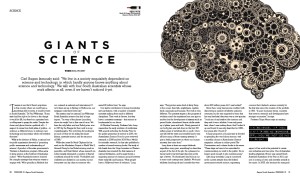 Here's an example of my feature writing. It's one of my favourite articles, a look at the sex industry from last winter's Adelaide Hills Magazine.